Arbor Hills Landfill Air Monitoring
Project Information
The Arbor Hills Landfill ("Arbor Hills"), located in Salem Township, Michigan, is currently conducting two separate monitoring programs for potentially odorous emissions. In December 2020, under an agreement with U.S. EPA, Arbor Hills installed an H2S meter at the Ridge Wood Elementary School. This meter is being operated and maintained by an independent third-party in accordance with an access agreement with Northville Public Schools. Click on the Ridge Wood Elementary School link below to connect to the monitoring data for this H2S meter.
In addition, Arbor Hills, as part of an agreement* with the Michigan Department of Environment, Great Lakes & Energy ("EGLE"), installed and operates six monitoring stations along the perimeter of the Arbor Hills facility. (See Figure below). Each of the six stations is equipped with sensors for H2S, methane (CH4), and meteorological instrumentation. The H2S and CH4 sensors measure the presence of these compounds along the perimeter of the Arbor Hills Landfill. While H2S itself is generally considered an odorous gas, CH4 is odorless. CH4 acts as a surrogate for other potentially odorous compounds that cannot themselves be readily and continuously measured. Depending on the levels detected, the presence of these compounds at the facility perimeter could indicate the potential for detectable odors at off-site locations under certain meteorological conditions. Click on the Perimeter Monitoring Locations link below to access the perimeter data.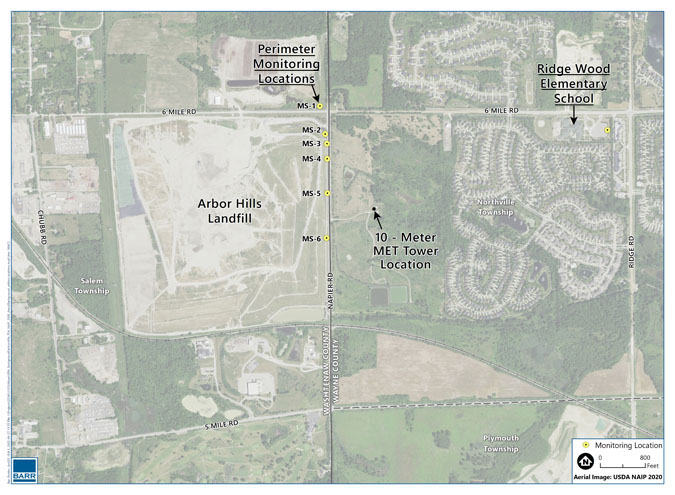 *This project was undertaken in connection with the settlement of an enforcement action in Michigan Department of Environment Great Lakes and Energy v. Arbor Hills Landfill Inc. to enforce state and federal laws.